When buying a new home, one of the most important factors to consider is the community you want to live in. Leduc, a remarkable community just outside the City of Edmonton, offers you a wonderful place to call home with all the amenities you'll need.
1. Shopping and Amenities
Most neighbourhoods in Leduc are only a short distance from the city's best amenities. As well as shopping and restaurants, you'll never be far away from essential services like schools and health centres. Meadowview is located close enough to Leduc common that you could get there in under 10 minutes for an easy shopping trip. You'll find stores nearby to cover almost any need, including Walmart, Canadian Tire, Pet Valu and Staples, as well as a wide selection of restaurants such as Canadian Brewhouse, Original Joes and Edo Japan.
If you're in the mood for a bigger shopping trip, you can also visit the brand-new Premium Outlet Collection Mall near the International Airport. This 480,000 square foot mall houses more than 100 retailers, including big names like H&M, Nike and Marshalls. You'll also find a large selection of restaurants and even live music events.
2. Accessibility

Leduc is located by many commuter routes, making it an easily accessible place to live. The QE2 connects with the Anthony Henday making every corner of Edmonton easily accessible.
A drive north on the QE2 leads to Whitemud Drive, which provides a faster commute to Sherwood Park or the West End. Also, a 15-minute drive makes it simple to pick up, drop off, or fly out of the Edmonton International Airport.
3. A Rich Heritage
As well as amenities, Leduc also has a vibrant cultural and historical life. Some of the major features you'll see in Leduc include:
Leduc Public Library
The Leduc Public Library has a storied history. Founded in 1912 and then again in 1946, it has taken on many forms over the years, at one point even being run from an abandoned street car. Nowadays it's housed in its own state-of-the-art 18,000 square foot building, with over 7500 members and over a thousand annual programs including everything from book clubs to Pokemon meetups!
The Maclab Centre for the Performing Arts
This 460-seat theatre has a year-round program featuring local artists and performers, including the Stageworks Academy for the Performing Arts and the Leduc Drama Society, as well as special guest speakers and musical acts.
Museums and Historical Societies
Leduc also boasts a wide selection of museums and historical sites. Dr. Woods House Museum is a preserved 1920's craftsman-style home built by one of the first doctors to settle in the area. It features a fully-restored medical wing and period furniture. You can also visit the Stone Barn & Cultural Village to learn about Leduc's rich agricultural history. There you'll find the original farmhouse, milking shed and gardens, alongside the historic Stone Barn. And if you enjoy that, you can also check out the Heritage Grain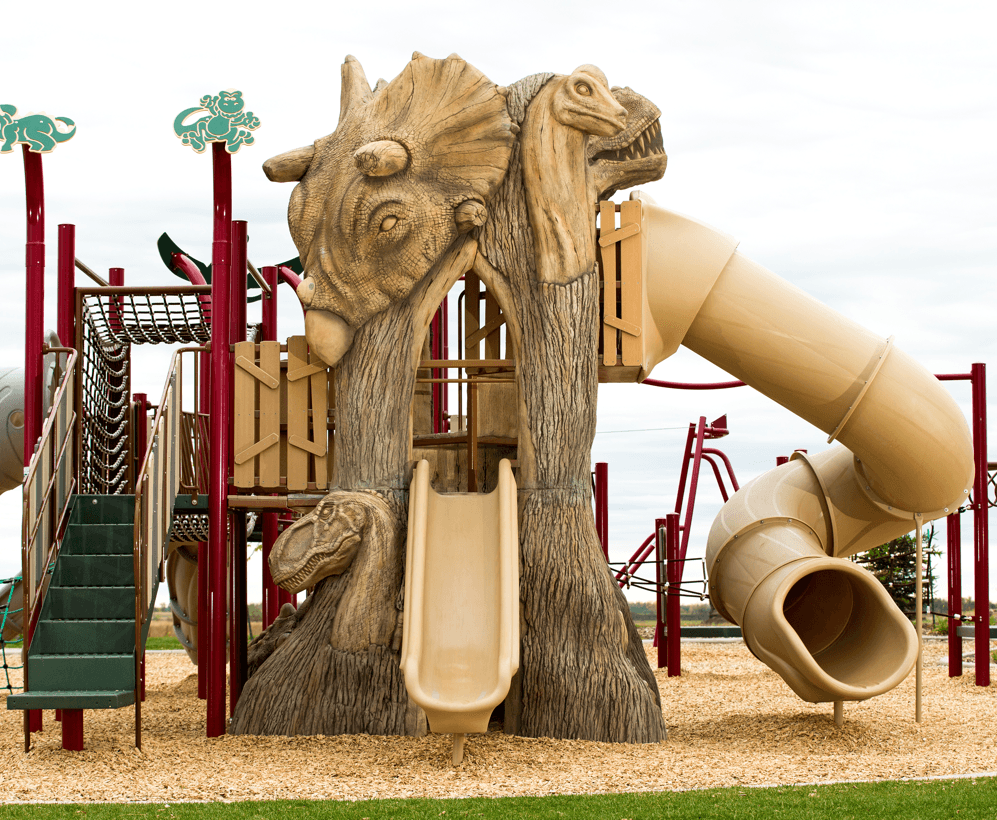 Elevator, one of the last wood crib grain elevators ever built.
4. Parks and Green Space
Living in Leduc means you'll have access to several parks and green spaces. For those of you that love to spend time outdoors, living in a community like Meadowview gives you a huge opportunity to enjoy trail systems, dog parks and community playgrounds that appeals to all ages. One of the most popular outdoor recreation areas is the gorgeous Telford Lake where you can enjoy things like boating and bird watching.
5. Schools and Recreational Centres

If you're a parent, you'll naturally be thinking about buying a new home close to the best schools in the area. Leduc offers many academic options including Catholic and French Immersion schools. Caledonia Park School is only a 5-minute walk from Meadowview, making it a convenient walk to school every day.
The Leduc Recreation Centre is a 309,000 square foot recreation centre just 4 minutes away by car from Meadowview. It has pretty much everything including a fitness centre, pool, and two hockey rinks.
6. Benefits of New Community Living

In addition to having easy access close to all the amenities you need, living in Meadowview also means getting your choice of home model! Building a new home provides you with numerous options that will allow you to make the home your own.
Originally posted May 5, 2017, updated November 20, 2018.
{{cta('577bbec6-fc98-44df-b74d-1af2de25082e','justifycenter')}}